Scott Wolf, of inside usc, is predicting that inside linebacker Manti Te'o will sign with USC.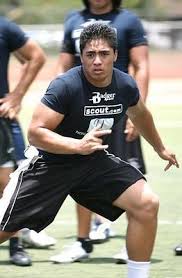 yojoe Fight On!
Update:  This again demonstrates the pathetic divinatory here at Dreadnaught.  Manti Te'o will join one of the top ten college football programs of all time: Notre Dame. 
On the down side, he will also be have to endure the most loathsome coach in college football: Charlie Weis.
Filed under: College Football, College Football Recruiting, Men of Troy, PAC-10, Sports, Trojans, USC, USC Football, USC Football Recruiting, USC Logo | Tagged: Manti Te'o, USC, USC Football, usc linebacker, usc recruiting |